Quilting, Pigeon Forge Cabins & Gatlinburg Cabins go back a long way
If you had to guess which events that traditionally take place in Spring draws some of the biggest crowds and most hardcore of fans to the subject at hand, and it wasn't a Rod Run, would you guess the annual Mountain QUILTFEST? Probably not, but then again, quilting has a surprisingly large and dedicated base of people, as Pinterest and Instagram have shown us, and the artform was more than a necessity here in Appalachian history.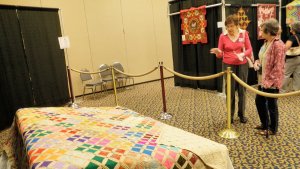 With as cold as the Winter gets here in the Smokies, it's safe to say that if out ancestors here didn't know how to quilt and pass it down along the line, we wouldn't HAVE an Appalachian culture to celebrate today! We wouldn't have survived!
But thankfully we did and so did quilting. Heck, quilting more than survives in the South – as evidenced by this being close to the quarter-century mark for as many years as we've been enjoying everything the Mountain Quiltfest has to offer. The Quiltfest is a near week-long affair going on between March 21st and March 25th for 2017 and many, many, MANY exquisite works of quilting art will be on display for all to see. Traditional patterns, creative patterns and maybe even some avant-garde quilting can all be expected along with over 50 vendor booths filled with quilts and quilting merchandise.
But displaying and selling quilts is not the only big reason this event draws major crowds – there is also much to find for those who want instruction and participation too. More than 15 quilting instructions will be there providing workshops to help quilters of all skill sets learn and hone the craft. The featured instructor will be RaNae Merrill from New York City (http://www.ranaemerrillquilts.com/) and, as traditional as the event itself, there will of course be a quilting competition with over 20 categories to enter into – there's even a youth category as well! Over $20,000 in cash and prizes are available to winners, so those of you with some confidence have a good reason to come on by!
A Mountain Quiltfest will be held at LeConte Conference Center in downtown Pigeon Forge and it's extremely convenient to get to from just about any of our cabins here at Bear Camp Cabins. Find the closest cabin to the event available by going to https://www.bearcampcabins.com/find-a-cabin/.
Click Here to Get more information on the 23rd A Mountain Quiltfest