Top 3 Tips on How to Plan Your Family Reunion in the Smokies.
June 19, 2017

Tubing Recommendations In the Smokies
June 30, 2017
Hiking In the Smokies Tips for Success
Adventurers, thrill-seekers, wanderlusts, sightseers and nature children take note – the Smoky Mountains are your paradise on Earth. Within the National Park's 522,000+ acres (that's over 800 square miles!) of federally protected land are more hiking trails, walking paths and exploration possibilities than you could accomplish in a year's time! There is something for everyone amongst the hills and woods for trekkers of all sizes, skills and ages – from families with very small youngsters in tow and those who just want a quiet walk amongst the glory of God's creation to those who eat red clay for breakfast and want a challenge. In this article we'll give you some tips for hiking in the Smokies as well as resources for trails and other worthy info to digest on the subject. Let us take a look:
Get smart and be prepared! The hiking trails are generally pretty safe and reports of people injured or lost per year are few in number, but don't underestimate it all the same. Bring food, water, sunblock, jackets, proper footwear (preferably footwear that is slip-proof or slip-resistant as the rocks and trails can get slippery) flashlight and maybe even a small first-aid kit just in case.
If driving clear across the county (and then some) to find a selection of hiking trails isn't on the menu for this trip, consider sticking to Newfound Gap Road. Newfound Gap Road is the road that connects from the Gatlinburg Bypass directly to Cherokee, North Carolina – it has the Sugarlands Visitors Center on it, the Tennessee National Park headquarters, over a dozen stops for views and more than a handful of hiking trails. It even has the famous Rockefeller Memorial where President FDR spoke in 1940 when the park was dedicated. Well worth considering.
Definitely bring your best camera and get ready to shoot some photos or film, because the views you'll experience are unlike anything else you're likely to see in this world. From the waterfalls and tops of the cliffs to the wildlife that are VERY present around the trails. Yes, there is a half decent chance you'll see deer and black bears, among others, along the trails and as long as you keep your distance and don't bother or feed them, they'll just be another part of the atmosphere.
If you're not sure where to go, how to start or need some quality hiking supplies before venturing, the Smoky Mountains have several stores available that will provide all the information you need and practically everything you want for your trip. Hiking stores in the Smokies include: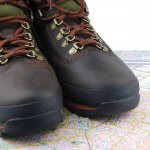 You could also consider a scavenger hike while in the Smokies! Check out the Scavenger Hike Adventures book by Kat and John LaFevre where it lists all kinds of awesome "hidden treasures" during your hikes. These include landmarks, views, oddities and more items that will make your trips memorable. See more on this book at Scavenger Hike Adventures 
We hope this is a good start towards getting you interested in gearing up and trekking the hills here in East Tennessee! Be safe, take nothing but pictures and leave nothing but footprints, and you'll have an awesome time here!
More useful information: