Visitors to the Smoky Mountains can sit back, relax and sip on a glass of wine at this unique Pigeon Forge attraction. Five different wineries in the area work together to form a single wine trail, the Rocky Top Wine Trail, that leads visitors throughout the Smoky Mountains, from Pigeon Forge to Gatlinburg.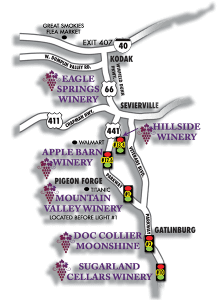 Included on the trail visitors will find Eagle Springs Winery, Hillside Winery, Apple Barn Winery, Sugarland Cellars and Mountain Valley Winery. Each of the wineries is locally owned and operated, showcasing the finest Smoky Mountain wines available. While you explore the wineries, make sure to experience the free tours and samples. Altogether, guests will be able to try 60 different wines from the area along the Rocky Top Wine Trail. Be sure to choose your favorite of the wines and purchase a bottle to enjoy later.
For visitors who choose to visit each of the locations along the trail, make sure you pick up a Rocky Top Wine Trail Passport. You can pick up the passport at any of the locations, wherever you choose to begin. After the third stop along the trail, you will receive a complimentary wine glass. For those who are able to finish the entire trail, stopping at each location, will receive a free gift.
After visiting each of the wineries that make up the Pigeon Forge attraction, you can relax with a glass of wine on the porch at one of Bear Camp Cabin Rentals' Pigeon Forge cabins. Fully equipped for guests, each of the Pigeon Forge cabins offers a comfortable home away from home. To start planning your vacation to the Smokies, you can give us a call at (800) 705-6346 to speak with one of the helpful staff members.