Time to ride around with the top down
The Smoky Mountains of Tennessee were made to be explored! Well, not literally created specifically for that purpose, but looking at the expansive range of Appalachia we call home and the many wondrous places one could find and enjoy if they take the charge to travel to them, and it's clear adventure and the mountains go together as inseparable as the two peas in a pod.
For this, we recommend utilizing a jeep rental service in Sevier County for the most rugged and best overall way to travel great distances across our fair region (short of doing so on horseback, which is rather difficult to do nowadays), and there are two services we recommend in Pigeon Forge and Gatlinburg – Wranglers and Razors at the Red Roof Mall and Southland Car and Jeep Rentals on Highway 321.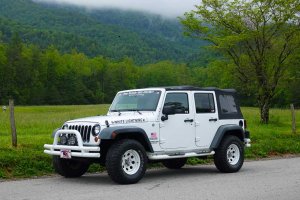 Southland has been in business for quite a long time in the Smokies. For over 15 years, they have been providing families and groups with needed transport whether it be rugged Jeeps, comfortable family-sized vans or a combination of the two in a Hummer!
Their Wrangler Jeeps feature:
4-wheel drive.
Five speed or automatic transmission.
Converter tops.
2-door or 4-door options.
Brand new 2017 Jeep Wrangler Unlimited available!
Their van rentals feature:
7-passenger occupancy.
3-row length.
Multi-zone climate control.
4-speed automatic transmission.
And their Hummers feature:
3-row length.
Wide frame offers better stability from overturning.
BOSE premium sound system.
Automatic climate control.
---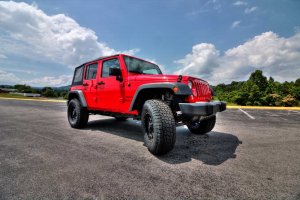 Wranglers and Razors
Located about as close to the center of downtown Pigeon Forge as you can get, Wranglers and Razors is also about as direct and to-the-point with a business name as you can get as they offer Jeep Wranglers and Razor 900 UTVs.
From their website:
2 Door Jeep Features
Soft Top
4 x 4 24S Package
Automatic Transmission
Air Conditioning
V-6 Engine
4 Door Jeep Features
Soft Top
4 x 4 24S Package
Automatic Transmission
Air Conditioning
V-6 Engine
Lifted 2 ½ inches
Oversize Tires
RZR 900 UTV Features
Street legal UTV.
4-seat vehicle.
True sport side by side.
Open-air doors.
Wranglers and Razors also rents Polaris Slingshots. Features on that include:
Street legal vehicle.
2.4 liter DOHC engine.
ABS disk brakes.
Tilt steering.
5-speed manual transmission.
It looks like the Batmobile. Seriously.